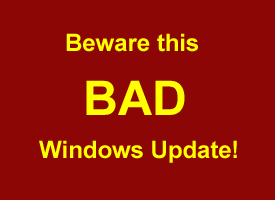 Do you install all Windows Updates as soon as possible after they are released?
I do, because I believe that's the best way to keep a PC safe from hackers by patching security holes in the operating system before they can be exploited.
That being said, every once in a while a buggy update can actually cause a problem instead of fix one. That seems to be the case with one of the Windows Updates that was released this past Tuesday. 
Microsoft released Update KB3033929 to help tighten your computer's security against installing malicious software, but there are numerous reports of the update causing Windows 7 PCs to go into a "Reboot Loop". This is not a good thing as the affected PCs refuse to finish booting up into Windows.
Microsoft is reportedly working on an update to "fix" the bad update, but until they do I strongly recommend that you avoid restarting your Windows 7 PC unless you absolutely have to. Even if your computer has booted up fine since Tuesday's updates were installed, the issue appears to be random and your machine could still go into a reboot loop at any time.
Bottom line: If you haven't installed Tuesday's bundle of Windows Updates yet, I recommend that you do so ASAP – but be sure NOT to install Update KB3033929!
If you have already installed the update and your PC is currently stuck in the reboot loop, you can probably fix this issue by pressing the F8 key at startup to load the Advanced Boot Options menu, then choosing the System Restore utility to roll back the system to a time and date prior to when the bad update was installed.
And by the way, if you're wondering if I still recommend installing updates as soon after they're released as possible, the answer is yes, I do. I'd rather deal with an irritating computer problem than have my identity or credit card info stolen. Just sayin'.