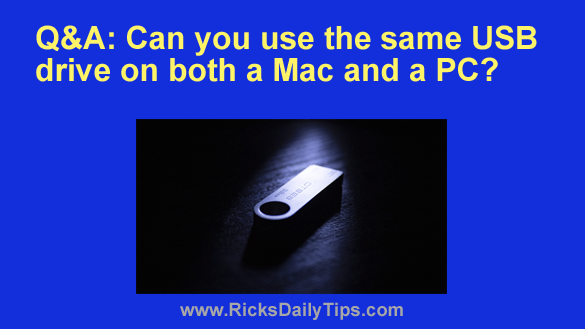 Question from Kasey:  I use a Windows 10 computer at work and a Mac at home. I've tried using the same USB flash drive on both computers by I always get an error.
I really need to be able to use certain files on both computers and transfer them back and forth.
My question: Is there any way to use the same USB drive on a Mac and a Windows PC? 
Rick's answer:  Kasey, the answer to your question is yes, but that will require the drive to be formatted in a special way.
By default, Macs and Windows PCs use different files systems on their drives, and unfortunately those two file systems are incompatible with one another.
The good news is you can easily reformat your USB drive to use a file system called exFAT that both Macs and PCs can recognize and use.
You can use either type of computer to reformat the drive, but I recommend that you do it using a Windows machine because that process is easier. Here's how:
Important: Before you begin the procedure detailed below, make sure you copy any files that are already on the flash drive onto another drive because the formatting process will erase the drive and any files that are currently stored on it.
Once you're certain that you're ready to erase the drive you can begin with step 1 below.
1 – Plug the USB flash drive that you want to use with both the Mac and the PC into an open USB port on the Windows PC.
2 – Press the Windows+E key combination to open a "File Explorer" window.
3 – Right-click on the USB flash drive and select Format from the pop-up menu.
Important: Just a quick reminder… Make sure you right-click on the correct drive because you're about to erase everything that's currently stored on it.
4 – Click on the down arrow in the "File system" field and change that setting to exFAT.
5 – Click the Start button and wait for the formatting process to complete.
That's all there is to it. Your USB flash drive should now be formatted with the exFAT file system and you should now be able to save files from the Windows PC to the drive and read them with the Mac (and vice versa).
I hope this helps, Kasey. Good luck!
---