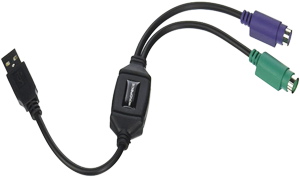 Question from Anita L.:  Hi Rick. I hope you can answer a computer question for me.
I've been using computers for over 30 years, but believe it or not I just bought my very first laptop. Yay me!!
Long story short, I love the laptop but absolutely hate the keyboard!
I know that I can buy a new USB keyboard and plug it in and it will work, but I have an old Cherry PS/2 style keyboard that I've had for many years. I'd really love to use that keyboard because I love the feel and sound of the mechanical keys.
The problem is my laptop doesn't have a PS/2 keyboard connector. Is there any way I can make this keyboard work with my laptop? Some kind of adapter maybe?
Thanks for your help. Love your site by the way!!!
Rick's answer:  I'm glad you like your new laptop Anita. That really is a very nice system!
To answer your question, you can indeed purchase a PS/2 Keyboard to USB Adapter that will allow you to use your beloved PS/2 style mechanical keyboard with your laptop. And they are very inexpensive. In fact, most of them sell for less than $10.
There are actually a bunch of these adapters to choose from, but the one I like best (#ad) is made by Monoprice. I just checked on Amazon and saw that it's currently selling for less than 10 bucks!
I've been using this particular adapter for almost two years, and with at least four different keyboards. It has always worked perfectly with every keyboard I have tried it with.
By the way, this adapter also has a connection for a PS/2 style corded mouse should ever need to use one (which is doubtful).
Important caveat: Adapters like this will allow you to use your PS/2 style keyboard with your laptop with no issues whatsoever, but there is one thing that you need to be aware of.
I'm guessing that the keyboard you're planning to use doesn't have a "Windows" key. If that is indeed the case you'll need to use the Windows key on your laptop's built-in keyboard to initiate any tasks that require pressing the Windows key.
The above being said, you should be able to perform most other keyboard-related tasks using your external PS/2 style keyboard.
Bottom line: You can buy a more expensive PS/2 keyboard to USB adapter, but I don't think you can beat this one from Monoprice (#ad) at any price.
I hope this helps Anita. Good luck!
Bonus tip: Want to make sure you never miss one of my tips? Click here to join my Rick's Tech Tips Facebook Group!
Note: Prices change frequently on Amazon so any prices/savings mentioned in this post might not be in effect by the time you read this.
---
Want to ask Rick a tech question? Click here and send it in!
If you found this post useful, would you mind helping me out by sharing it? Just click one of the handy social media sharing buttons below.