Note: The links in this post are affiliate links.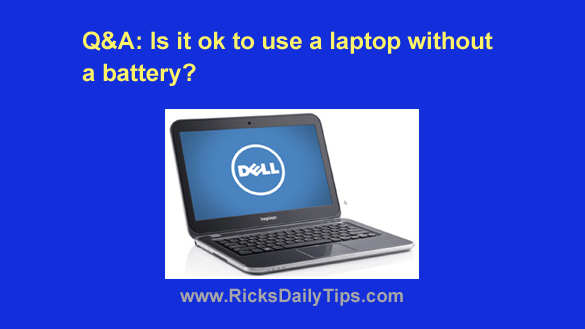 Question from Oliver:  I have an old Dell XPS 17 laptop that's now running Ubuntu Linux.
This machine still works perfectly but the battery won't hold a charge anymore.
Since it's so old I don't really want to buy a new battery for it.
Would it be ok if I just removed the battery and ran it straight from the charger?
I never travel with this machine so I never really need to run it from a battery.
I plan to use this laptop until it dies, then replace it with a new Windows laptop. I've always had good luck with Dells, but I'd love to hear from you if you think there's a better brand.
Rick's answer:  Oliver, the short answer to your question is yes. Your laptop will run just fine without a battery installed in it.
In fact, lots of folks use their laptops much like a desktop machine by leaving them plugged in with the batteries sitting somewhere on a shelf.
That being said, there's one huge advantage to running a laptop with a hot battery installed: The battery serves as a built-in UPS/battery backup device, which will protect your open files and data should the power go out unexpectedly.
Without a working battery installed, your laptop will turn off immediately if the power goes out, causing you to lose any unsaved work.
The good news is laptop batteries are relatively cheap these days. In fact, you can get a third-party replacement battery  for your Dell XPS 17 for a great price on Amazon.
I'm not trying to talk you into changing your mind about not buying a replacement battery, but I did feel the need to make sure you are aware of all the options that are available to you.
As far as a new laptop is concerned, I happen to like Dell a lot myself. And as you can see right here, there are a bunch to choose from in virtually every price range.
I hope this helps, Oliver. Good luck!
Update from Oliver:  Just what I was hoping to hear. Thanks for all the great info!
Bonus tip: Click here for a real-world example of why I recommend a Battery Backup Device for your computer equipment, including your laptop.
---