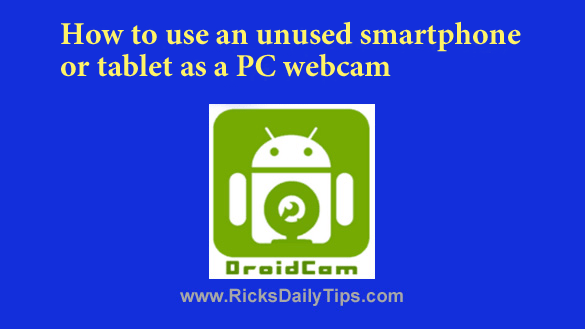 Most laptops come with built-in webcams these days, but some older models don't. And unless the monitor has one built-in, desktop PCs don't typically come with them either.
If you ever find yourself in need of a webcam but you don't happen to own one, a nifty free download called DroidCam will let you use an most any smartphone or tablet as a webcam for your Windows or Linux PC.
Installing the DroidCam software is easy….
First, you'll need to download and install the DroidCam client app onto your computer. Here's how:
1 – Click here to visit the DroidCam website.
2 – If your computer is running Windows, click the Download Windows Client button. If it's running any flavor of Linux, click the Download Linux Client button. If you need help at any time, return to this same page and click the red button.
3 – Follow the prompts to install the selected client app onto your computer.
Installing the DroidCam mobile app onto your smartphone or tablet is easy as well. Simply visit your device's applicable app store and search for DroidCam Wireless Webcam, then tap the Install button.
Once the apps have been installed on both your computer and Android device, you'll need to establish a connection between the two devices. Here's how:
1 – Visit this page on the DroidCam website.
2 – Click Connect via WiFi and follow the instructions listed.
And now I must mention a caveat:
While there is also an option for connecting your Android device to the computer via a USB cable, many users have reported that it doesn't work all that well. Therefore, it is recommended that you connect the devices via WiFi if at all possible.
That's all there is to it. Now you can easily use any handy Android device as a webcam!
Bonus tip: This post explains how to use your old smart phone as an emergency radio scanner.
---