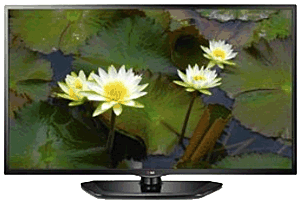 Question from Nancy H.:  I just replaced the LG 42LN5400 42″ flat screen TV in my living room with a beautiful new 60″ model from Panasonic.
The LG still works great, and it has a fantastically sharp picture.
What I'd like to know is can I replace the ancient 20″ monitor that I'm using with my Gateway desktop PC with my now-spare 42″ TV? They both have HDMI ports. Thanks for your help.
Rick's answer:  Nancy, my answer to your question has two parts. First, the "technical" part:
Yes, you can easily connect your 42″ LG flat screen TV in place of your old computer monitor. It will connect right up with an HDMI cable and work just fine. But now, I must give you the "practical" part of my answer:
If you use your computer almost exclusively for watching videos, you'll probably be perfectly happy using your spare TV as a monitor. But if you use it for traditional computing tasks such as email, Internet use, office work or anything else where you work with text, you're likely to become frustrated very quickly by the fuzzy, unclear text.
Although your TV has full HD 1080p resolution, you'll find that the fantastically sharp picture you enjoyed when using it as a TV doesn't translate into equally sharp text. Why? Because you're spreading that resolution over a screen that's vastly larger than the typical computer screen. And that screen wasn't designed to have the resolution required of a computer monitor.
There's also another practical reason why a 42″ TV might not make a great monitor: You're going to be sitting basically an arm's length away from it. Have you ever tried watching your TV from an arm's length away for more than a minute or two at a time? It puts quite a strain on the eyes.
Bottom line:  While you can easily connect your TV to your PC and use it as a monitor, I would strongly advise against it for the practical reasons mentioned above.
Bonus tip #1: Something you might want to consider is connecting your LG TV to your PC as a secondary monitor and use it just for watching videos and other non-textual tasks.
This post explains how to easily add a secondary display to virtually and computer.
Bonus tip #2: Want to make sure you never miss one of my tips? Click here to join my Rick's Tech Tips Facebook Group!
---
Do you have a tech question of your own for Rick? Click here and send it in!
If you found this post useful, would you mind helping me out by sharing it? Just click one of the handy social media sharing buttons below.