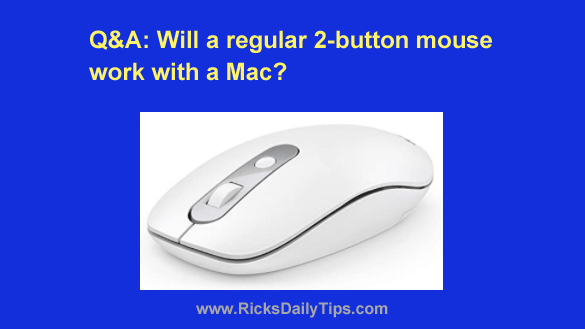 Note: The links in this post are affiliate links.
Question from Tammy:  I've used nothing but Windows laptops all my life but I decided to try a MacBook Air this time around.
I think I'm going to like the laptop ok but I hate the Magic Mouse that I bought to go with it. I just can't seem to get used to it.
My question is can I use a regular 2-button mouse like the ones you use with a Windows computer with it?
I know these mice are really cheap so I could just buy one and try it, but I'm afraid it might damage the laptop.
Rick's answer:  Tammy, a regular two-button mouse will work just fine with your MacBook Air, and it won't damage the machine in any way.
I recommend getting a wireless Bluetooth mouse since they are so much more convenient than corded mice.
Once you connect your new two-button mouse to your MacBook Air you'll find that it works pretty much the same way it would work on a Windows machine, right-clicking and all.
Just so you'll know, I've never been a huge fan of Apple mice either. For some reason they just don't feel "natural" in my hand the way a traditional two-button "PC style" mouse does.
Of course plenty of folks will disagree, and that's fine. I guess it mostly depends on which type of mouse you started out with.
Luckily, Bluetooth mice are quite inexpensive these days. You should be able to find one locally at Best Buy, or maybe even Walmart.
If you have trouble finding one locally you can always order one from Amazon. They have plenty to choose from.
I hope this helps, Tammy. Good luck!
---