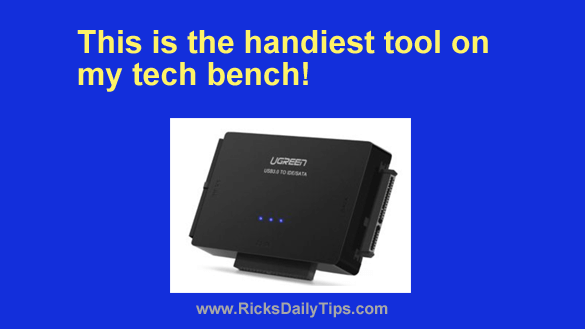 Note: The links in this post are affiliate links.
I wrote a post a while back explaining why every computer owner needs to keep a USB to SATA adapter
 sitting on a shelf somewhere, but that post primarily discusses how handy they are when working with hard drives.
Well, yesterday I found myself using it for a slightly different kind of task… 
I found myself needing to copy some important files from some DVD-R discs onto a laptop that didn't have an optical drive, and my external USB DVD drive decided it didn't want to work any longer.
What to do?
Well, after thinking about it for a moment I came up with a plan…
I pulled the DVD-RW drive from a desktop PC that had recently been "junked" due to a bad motherboard and connected it to the laptop with my trusty UGREEN USB 3.0 to SATA/IDE adapter.
In no time flat I was copying the files from those DVDs to the laptop's SSD.
I can't tell you how many times this adapter has pulled me out of a jam. Of course this nifty device has a thousand other uses as well, but this was just the latest example.
By the way, this versatile adapter works with both SATA drives and the older IDE-type drives. Yep, today it hit me that my USB to SATA/IDE adapter was the handiest tool on my tech bench, bar none.
Bonus tip: This post explains a super-easy way to clone one the contents of one drive onto another drive.
---