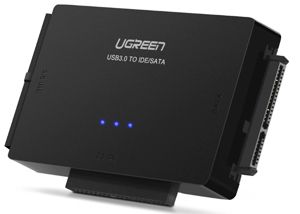 I wrote a post a while back explaining why every computer owner needs to keep a USB to SATA adapter
 sitting on a shelf somewhere, but that post primarily discusses how handy they are when working with hard drives.
Well, yesterday I found myself using it for a slightly different kind of task.
After replacing a dead hard drive in an older laptop, it suddenly occurred to me that I had no way to re-install Windows from the Recovery Discs because that particular laptop also had a defective optical drive. What to do?
Well, after thinking about it for a moment I came up with a plan… 
I removed the DVD-RW drive from a desktop PC that had recently been "junked" due to a bad motherboard and connected it to the laptop with my trusty UGREEN USB 3.0 to SATA/IDE adapter.
In no time flat I was re-installing Windows from the Recovery Discs. I can't tell you how many times that adapter has pulled me out of a jam!
Of course this nifty device has a thousand other uses as well, but this was just the latest example.
By the way, this adapter works with older IDE-type hard drives as well!
Yep, today it hit me that my USB to SATA/IDE adapter was the handiest tool on my tech bench, bar none!
Bonus tip: This post explains a super-easy way to clone a laptop's hard drive!
Bonus tip #2: Want to make sure you never miss one of my tips? Click here to join my Rick's Tech Tips Facebook Group!
Note: The links in this post are affiliate links.
---
Want to ask Rick a tech question? Click here and send it in!
If you found this post useful, would you mind helping me out by sharing it? Just click one of the handy social media sharing buttons below.