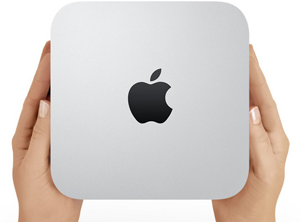 Question from Tom L.:  I bought bought my daughter a Mac mini in November 2014 hoping she could use it when she started college in January.
The salesman told me that the only Mac minis they had in stock came with 4GB of RAM but I could always upgrade the RAM to a greater amount later if it turned out that 4GB wasn't enough.
Well, it turns out that she does need more RAM now in order to run a program she'll be using for one of her classes next semester.
The problem is she took the computer into Best Buy for a RAM upgrade and they told her that her model of the Mac mini can't be upgraded. Is that true? She loves this computer and wants to keep using it if she can.
Rick's answer:  I hate to have to confirm that bit of bad news Tom, but I'm afraid I must.
The Mac mini 2014's RAM chips are soldered directly onto the mainboard, and they can't easily be removed and replaced with larger RAM chips. What's more, there are no RAM slots on the board like there were in previous models.
I hate to say it but the salesman that sold you the Mac mini two years ago either lied to you in order to make the sale or he wasn't familiar with the specs of that particular machine.
Bottom line: I'm afraid your only recourse for getting enough RAM for your daughter to run her program is to replace the entire computer with a different model.
I wish your daughter all the best Tom, and I really wish I could have given you a different answer.
Bonus tip #1: This post explains how to keep a Mac free of malware.
Bonus tip #2: Want to make sure you never miss one of my tips? Click here to join my Rick's Tech Tips Facebook Group.
Not into Facebook? Then click here to join my LinkedIn Tech Tips Group instead!
---
Want to ask Rick a tech question? Click here and send it in!
If you found this post useful, would you mind helping me out by sharing it? Just click one of the handy social media sharing buttons below.