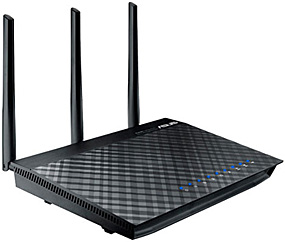 Question from Frank A.:  Hi Rick. I need a little advice if you don't mind.
I just bought a new HP desktop computer that came with a 1Gbps network adapter in it.
I'm thinking about replacing my ancient 300 Mbps router with a new AC class router (#ad) and purchasing a couple of 1Gbps wired networking adapters (#ad) for my wife's and son's computers to bring everything on the network up to 1Gbps.
My son and I play competitive games over the network and I've read that this will really speed up those games. My wife uses her computer primarily for emailing and visiting a few websites (mostly Facebook and Pinterest).
I would really like to keep all the computers connected to the router via Ethernet cables if at all possible.
My question is do you think the benefits of making these upgrades justify the cost given that our Internet connection tops out at just 50Mbps?
Rick's answer:  Frank, my short answer to your question is not just a simple "yes", but absolutely!
First, let me address the gaming that you and your son engage in…
Speeding up the connection between your two computers will definitely make your gaming experience faster, smtwo gaming PCsoother and more enjoyable, therefore I strongly recommend that you upgrade the LAN connection between them.
As you mentioned above you'll have to install a Gigabit Ethernet card in your son's PC. I would also recommend upgrading your network cables to CAT 6 if the gaming PCs are physically located a long distance from the router (say on the opposite end of a long house).
As far as Your wife's computer is concerned, that machine doesn't really need a faster connection to the router based upon what you told me about her typical computing tasks. In my opinion the cash spent to upgrade her connection to 1Gbps would be money wasted since none of her activities require a lot of bandwidth (and your Internet connection is limited to 50Mbps anyway).
As you probably know, Internet connection speeds are always limited to the speed of the slowest link in the chain. That means buying a router that's faster than that slowest link (in your case the 50Mbps download speed) won't speed up your Internet activities a bit.
Bottom line: I recommend that you go ahead and buy a new router (#ad) and install a Gigabit Ethernet adapter (#ad) in your son's PC (and replace any cable that needs replacing), but leave your wife's computer as it is.
Bonus tip: Want to make sure you never miss one of my tips? Click here to join my Rick's Tech Tips Facebook Group!
---
Want to ask Rick a tech question? Click here and send it in!
If you found this post useful, would you mind helping me out by sharing it? Just click one of the handy social media sharing buttons below.
---
Do you have a tech question of your own for Rick? Click here and send it in!