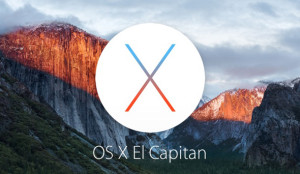 Question from Carla T.:  I have a 3 year old MacBook that's running OS X Mavericks and my son has been bugging me about upgrading the OS X to El Capitan.
I'm hesitant to do that because everything is running great and I don't want to mess anything up.
I'm really confused about what to do because I've heard horror stories about upgrades that go wrong and trash the system. Do you think I should upgrade or not?
Rick's answer:  Carla, there is always a risk that any update on any machine could go wrong and end up causing problems. But that risk can be greatly reduced by making sure you have a current backup on hand (I recommend backing up with Carbonite) and plugging your computer into a battery backup device
(#ad) before initiating the upgrade.
To answer your question, OS X El Capitan has some awesome improvements that make upgrading a true no-brainer in my opinion.
First of all, El Capitan is more secure from hackers than any of it predecessors were, thanks in large part to the introduction of System Integrity Protection (SIP).
In a nutshell, SIP makes it more difficult for malicious software to mimic the standard apps that are already on your system. This improvement alone makes the upgrade worthwhile in my opinion.
There are also several awesome new features available in El Capitan, most notably these:
1 – Split View – You'll now be able to view two apps and/or web pages side-by-side on the screen. This is something that Windows users have been able to do for years, and now Mac users can too thanks to El Capitan.
2 – Window Thumbnails – You'll now be able to navigate between your open windows by simply selecting their corresponding thumbnail images with your mouse. This makes choosing the right window a LOT easier than it was before.
Bottom line: I believe everyone should upgrade to El Capitan as soon as possible in order to take advantage of its enhanced security and handy new features. You won't be disappointed!
Just be sure to back up all of your files and plug your MacBook into a battery backup device before you initiate the upgrade procedure.
I hope this helps Carla. Good luck!