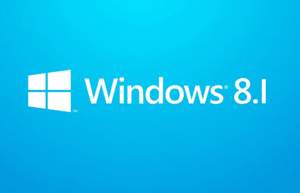 If your PC is running Windows 8, there is a free update to Windows 8.1 waiting for you in the Windows Store. And if ever there was a free update worth installing, in my opinion, this is it!
Some users have trouble installing the Windows 8.1 update however, and most of the time it's because their Windows 8 installation is either infected with malware or not completely up-to-date.
With that in mind, here is my simple step-by-step guide to installing the free Windows 8.1 update: 
1 – Make sure your PC is completely free of viruses, trojans and other forms of malware. This post explains how.
2 – Make sure you have at least 4 GB of free disk space for the Windowa 8.1 update installer to work with. Microsoft says you can get by with less, but the process seems to run more smoothly with at least 4GB. If need be, you can free up extra disk space by running "Disk Cleanup" and then uninstalling any unused Desktop programs and Modern apps.
3 – Make sure your PC is connected to an active Internet connection.
4 – Run Windows Update and install all available critical and important updates (you can skip the optional updates if you wish). Then run Windows Update again and install any new critical and important updates that show up. Repeat this step until the Update utility no longer finds new updates to install.
5 – Temporarily disable your anti-virus software. Your PC is now ready to receive the Windows 8.1 update.
6 – On the Start Screen, click or tap the Store tile.
7 – Click or tap Windows 8.1 Update. The update will begin downloading. After the download is complete, the installer will launch automatically. Just follow the prompts from here on out and Windows 8.1 will be installed before you know it!