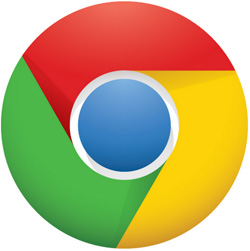 Several people have messaged me this morning asking if the viral notice to update their Chrome browser to the latest version is real or a hoax.
Well, as you know, hoaxes abound on Facebook, but this isn't one of them.
If you haven't done so already, you really do need to install the latest update for Chrome in order to prevent hackers from exploiting a very dangerous security flaw.
And you need to install this update right now because the flaw is actively being exploited as we speak!
In a nutshell, this dangerous flaw lets hackers view the files that are already on your computer and then install malicious code on it as a nasty bonus.
And that, as they say, is not good!
That's why you need to make sure Chrome is updated on all of your laptops and desktop computers right away!
Luckily, it's very easy to check to see if your Chrome installation is up to date and install the latest patched version if it isn't. Just follow the steps below:
1 – Launch the Chrome browser.
2 – Click the Menu icon in the top-right corner of the window (it looks like three vertical dots).
3 – Click Help>About Google Chrome.
That's all there is to it. Chrome will now check to see if your machine is running the latest version.
If so, it will tell you. If not, the latest version will be installed automatically.
Pretty easy, right?
By the way, this security flaw is only present in the version of Chrome that runs on laptops and desktop computers.
If you have Chrome installed on your mobile device(s) you don't need to worry about updating it on there.
Bonus tip #1: Since this security flaw is actively being exploited by hackers as we speak, I strongly recommend that you run a thorough malware scan on your Windows computer(s) after you've verified that Chrome has been updated to the latest version.
Bonus tip #2: Want to make sure you never miss one of my tips? Click here to join my Rick's Tech Tips Facebook Group!
---
Want to ask Rick a tech question? Click here and send it in!
If you found this post useful, would you mind helping me out by sharing it? Just click one of the handy social media sharing buttons below.