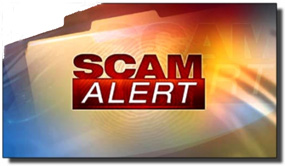 Email scams have been making the rounds ever since email first burst onto the scene back in the early days of the Internet.
There are countless ways for scammers to use fraudulent emails to separate honest people from their money, and unfortunately I've probably seen every one of them at one time or another.
Well, right now there's a relatively new kind of scam email making the rounds.
In this scam the scammers place a fake "Unsubscribe" link at the bottom of their SPAM emails.
As I explained in this post, you should never click the "Unsubscribe" link in a SPAM email because all that does is verify to the scammer that your email address is both valid and active.
That immediately gets your email address placed on the SPAMMER's active email address list, after which it gets sold to other SPAMMERs and scammers.
As you can imagine, one your email address finds its way onto multiple SPAM lists it'll forever be bombarded with tons of SPAM – and you won't ever be able to put a stop to it!
Well, the word has gotten out about this devious tactic and the number of people who are falling for it and clicking the "Unsubscribe" link has dropped considerably as a result.
But unfortunately, the scammers never give up. They simply shift gears when necessary and modify their scams just enough to start tricking folks all over again.
What they came up with is just as clever as it is devious: Simply disguise the entire email as an "Unsubscribe" confirmation request.
In a nutshell, the scammers send out an email that makes it look like you recently attempted to unsubscribe from some type of email list or online service.
Here's a screenshot of one of the fraudulent "Unsubscribe Confirmation" emails that landed in my inbox just this morning: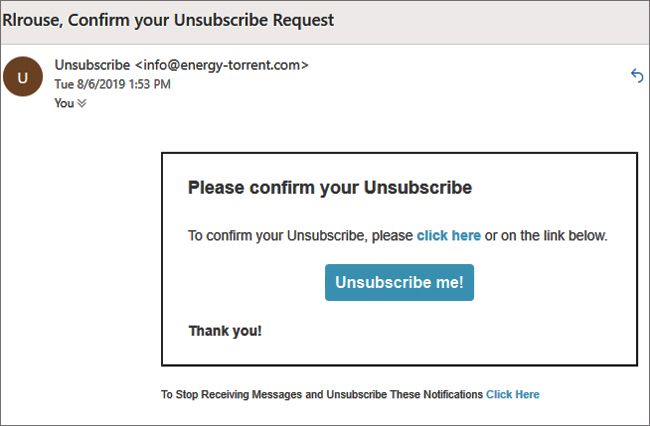 As you can see, there's no mention of what you're supposedly trying to unsubscribe from, and that's a huge red flag.
Basically all you have is a big honking "Unsubscribe me" button.
I already knew this was a scam email, but just for kicks I hovered my mouse over the "Unsubscribe me" button to see what web page URL it was linking to.
Well guess what? It wasn't linking to a web page at all. Instead, it was a simple Mailto: link with several dozen email addresses listed as the targets.
If an unsuspecting recipient had clicked on that button they would have probably ended up emailing dozens of scammers all in one fell swoop!
In other words, they would have confirmed that their email address is both valid and active to dozens of scammers at once. Not good!
But the scammers didn't stop there. They even included a regular "Unsubscribe" link at the bottom of the email.
In other words, they were inviting me to unsubscribe from their unsubscribe emails!
But guess what? That bottom "Click Here" link was the same exact Mailto: link that's lurking behind the "Unsubscribe me" button!
Bottom line: Never, ever click the "Unsubscribe" link contained in a SPAM email. And whatever you do, don't fall for these phony "Unsubscribe Confirmation" emails!
Bonus tip: Want to make sure you never miss one of my tips? It's easy! Just…
Click here to sign up for my free Rick's Daily Tips Email Newsletter!
---
Would you like to ask Rick a tech question? If so, click here and send it in!
If you found this post useful, would you mind helping me out by sharing it? Just click one of the handy social media sharing buttons below. Thanks a bunch!