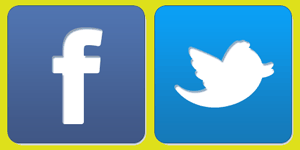 Question from Sara:  How do I remove the link between my Twitter account and my Facebook account?
I don't like my tweets being automatically posted on Facebook!
Rick's answer: Wow Sara, that question was short and sweet. Luckily, my answer is almost as short (not so sure about the sweet part though).
Personally, I'm not a huge fan of linking social media accounts together because I believe it's best to tailor your posts and tweets to fit the format of the respective sites.
Luckily, it's easy to stop Twitter from posting your tweets to your Facebook Timeline.
You didn't mention how you use Twitter so I'll include instructions for both the desktop version and the mobile app.
Follow these steps if you use Twitter in a web browser on a laptop or desktop computer:
1 – Log in to your Twitter account.
2 – Click the More link over in the left-hand column.
3 – Click Settings and Privacy.
3 – Click the Account link in the middle column.
4 – Click the Apps and sessions link over in the right-hand column.
5 – Click on Facebook Connect and then click Revoke access.
Follow these steps if you use the Twitter app on a mobile device.
1 – Open the Twitter app and log in to your account.
2 – Tap your tiny avatar photo that's located in the top-left corner of the screen.
3 – Tap Settings and Privacy.
4 – Tap Account.
5 – Scroll down and tap Apps and sessions.
6 – Tap on Facebook Connect and then tap Revoke access.
That's all there is to it. You have successfully unlinked your Facebook account from Twitter.
I hope this helps, Sara. Good luck!
Bonus tip: Want to make sure you never miss one of my tips? It's easy! Just…
Click here to sign up for my free Rick's Daily Tips Email Newsletter!
---
Would you like to ask Rick a tech question? If so, click here and send it in!
If you found this post useful, would you mind helping me out by sharing it? Just click one of the handy social media sharing buttons below. Thanks a bunch!