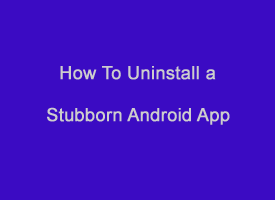 Question from Keith:  Hi Rick. I have a problem that's driving me nuts and I hope you can help me solve it.
I downloaded an app onto my Motorola XOOM but decided that I don't like it. When I try to uninstall it I get a message that says "Uninstall not Successful". No matter what I do I can't get Android to uninstall the app.
I stopped the service and even went into Google Play to try to remove it, but nothing works. What do I need to do to get rid of it?
Rick's answer:  Keith, as you have discovered many of Android's error messages and notifications are so vague that they're virtually worthless. Luckily, in this case the solution is probably pretty simple.
You didn't mention the name of the app in question, but I'm guessing that it has set itself up as a Device Administrator. If that's indeed the case, following the steps below will revoke those privileges and allow you to uninstall the app:
1 – Tap Settings.
2 – Tap Locations & Security.
3 – Select Device Administrators.
4 – Disable the app that you're trying to uninstall.
5 – Try uninstalling the app again. You should now be able to do so.
Give that a try Keith, and let me know how it goes. If that does't work, I'll tell you what to try next. Good luck!
Update from Keith:  That worked Rick. Thank you.
---
Do you have a tech question of your own for Rick? Click here and send it in!