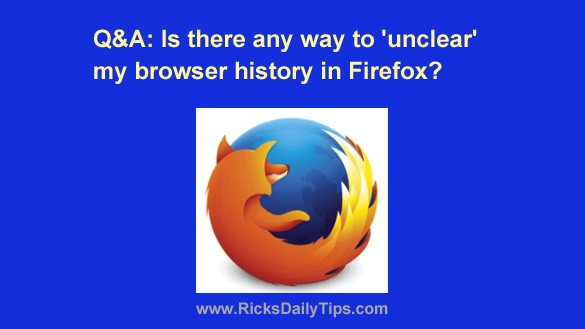 Question from Carol N.:  Rick, I'm really in a bind and I need your help!
My son was messing around in the settings in Firefox and he deleted my browser history, including ALL of my stored passwords.
As you can probably guess, now I can't log in to my bank account or pretty much anything else because I've forgotten the passwords.
Do you know if there's a way to "unclear" the browser history in Firefox?
In other words, can it be reversed and the lost passwords retrieved?
I have a LOT of accounts of different kinds and I'd really like to avoid having to reset all those passwords if I can avoid it.
Rick's answer:  Carol, I wish I had good news for you, but I really don't. I'm afraid your stored passwords and the rest of your history items are gone for good.
Well, that isn't entirely true. There are in fact a couple of ways to retrieve your passwords, but they are quite technical in nature and I can't really recommend them for the average user.
If you wouldn't mind paying someone to have the lost passwords retrieved on your behalf, your local computer shop can probably get it done for you.
By the way, if you research this issue on the web you'll find plenty of folks claiming that a System Restore will retrieve your deleted browser history.
You can give that a try if you wish, but I have never had any luck whatsoever using that method.
Bottom line: I'm afraid you'll either have to either take your computer to a shop to see if they can recover your lost passwords or simply bite the bullet and reset all of them by hand.
Again, I truly wish I had better news for you.
Bonus tip: This is one of four reasons why I recommend against having your web browser store your passwords for you. This post contains the other three.
---
Never miss a tip!  Click here to sign up for my free Daily Tech Tips Email Newsletter!