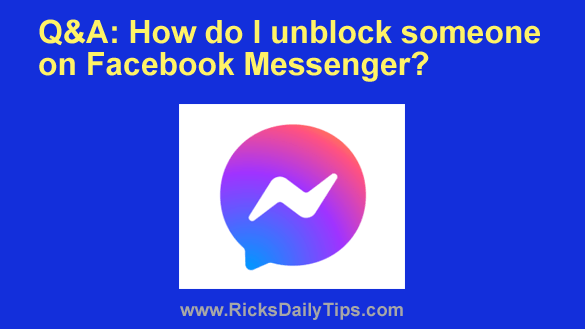 Question from Amber:  I really hope you can help me.
I started dating one of my Facebook friends a while back but then I got mad at him and blocked on Messenger.
We ran into each other a few days ago and ended up agreeing to go out again.
The thing is I don't know how to unblock him on Messenger. Can you tell me how to do it? 
I always have my phone with me and Messenger is a convenient way to talk to people when I'm working.
Rick's answer:  I'll be happy to help you with that, Amber.
Luckily, it's actually pretty easy to unblock someone via the Messenger app.
You didn't mention whether you also blocked him on Facebook itself or just on Messenger.
If you also blocked him on Facebook you'll need to follow these instructions to unblock him there first.
After you've confirmed that you aren't blocking this person on Facebook you can follow these steps to unblock him on Messenger:
1 – Open the Messenger app and tap your profile photo in the top-left corner of the screen.
2 – Scroll down and tap Privacy.
3 – Tap Blocked accounts.
4 – Tap the name of the person you want to unblock.
5 – Tap Unblock Messages and Calls.
6 – Tap Unblock.
That's all there is to it. You should now be able to interact with this person via Facebook Messenger once again.
I hope this helps, Amber. Good luck!
Update from Amber:  That really was easy. Thanks!
---