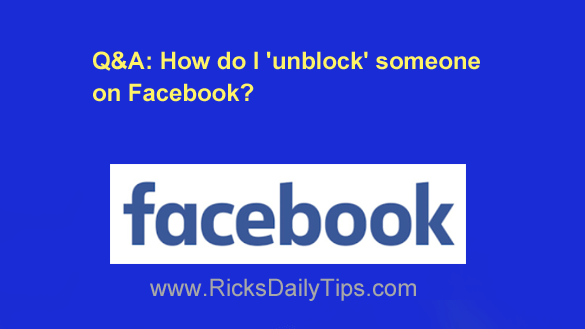 Click here to sign up for my free Rick's Tech Tips Newsletter!
---
Question from Barbara G.:  How do unblock someone on Facebook?
Rick's answer:  I love questions like this, Barbara.
They're short and to the point, and that usually makes them very easy to answer.
Luckily, it's actually pretty easy to unblock someone that you've blocked in the past, but how you do it will depend on the type of device you're using to access your Facebook account.
Follow the steps below to unblock a blocked Facebook user on a laptop or desktop computer: 
1 – Click the down arrow at the right side of the Menu bar near the top of the Facebook window.
2 – Click Settings and Privacy.
3 – Select Settings from the drop-down menu.
4 – Click the Blocking link over in the left-hand column.
5 – Scroll down until you find the person's name in the list, then click Unblock.
Follow these steps if you're using the Facebook app on a mobile device:
1 – Tap the Menu icon (depending on your version of the app it either looks like three horizontal lines or three vertical dots).
2 – Scroll down and tap Settings & Privacy.
3 – Tap Settings.
4 – Tap Blocking.
5 – Scroll down until you find the person's name in the list, then tap Unblock.
That's all there is to it. Now you know how to "unblock" someone you've blocked on Facebook.
Note: Once you unblock a person, you'll have to wait 48 hours before you can block them again should you change your mind. Therefore you need to be sure you really want to reverse a block before taking that action.
I hope this helps, Barbara. Good luck!
Bonus tip:  This post explains exactly what happens when you block a person on Facebook.
---
Cick here to ask me a tech question.