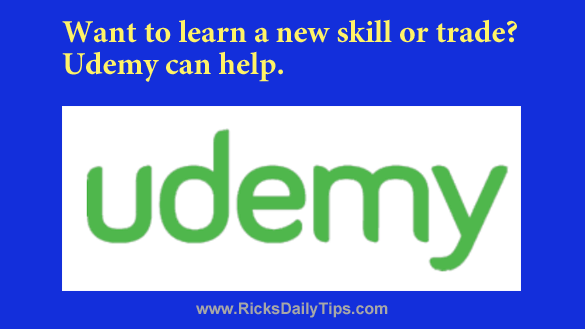 Click here to sign up for my free Rick's Tech Tips Newsletter!
---
If you pay attention to the news you know that the American job market is in great shape these days.
As you probably know, there are lots more jobs waiting to be filled in the U.S. right now than there are people actively seeking work.
Unfortunately, many of the best paying jobs are remaining unfilled because there aren't enough job seekers who possess the requisite skills to fill them.
That's why it's more important than ever to possess a valuable skillset that qualifies you to snag one of the many lucrative jobs that employees are desperately seeking to fill. 
Luckily, there's a great way to learn some of the most in-demand skills without ever setting foot inside a classroom.
Udemy
makes it easy to learn a new skill or trade by taking courses at home, right on your own computer.
And these courses aren't fluff. They are real-world practical courses that will teach you the skills you need to possess in order to secure and excel at a great paying job.
What's more, if you have an entrepreneurial spirit, successfully completing many of Udemy's courses will even allow you to create your own job and work for yourself!
Whether you're interested in Computer Programming
, Business
, Photography or something else, you're sure to find courses at Udemy that'll put you on the path to success.
All of Udemy's classes are taken online right from the comfort and privacy of your own home or office. That makes it easy and convenient to acquire valuable new job skills without having to quit your current job or ever set foot on a college campus.
Sound good? If so, click here
to visit Udemy's website and explore their extensive catalog of courses.
Bonus tip: This post explains why you should be careful about what you Like, Share and Comment on while using Social Media if you're still in the workforce.
---
Click here to ask me a tech question.