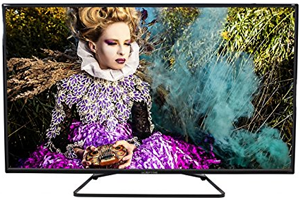 Question from Ari G.:  Hi Rick. I hope you can help me solve a problem I'm having with getting a new TV to work with my laptop.
I read Chad W's question about whether he could connect a TV to his laptop to use when he's watching Netflix. You said he could do it and I'd love to do the same thing.
I bought a brand new Sceptre U508CV-UMK 49″ 4K Ultra HD LED TV and plugged it into my Dell laptop's HDMI port.
The problem is the laptop won't boot up when the TV is connected to it. It just hangs on the POST screen and then shuts down after a few seconds.
I've tried using three different HDMI cables and it does the same thing with all of them. The other two laptops in our house boot up just fine with the TV attached and everything works perfectly.
Is there a setting on either the laptop or the TV that could be causing this problem? Or maybe this TV is simply incompatible with this laptop?
Rick's answer:  I've heard several reports of this issue Ari, and it's usually caused by an incompatibility between a particular laptop's HDMI port and the TV's Consumer Electronics Control (CEC) feature.
In a nutshell, CEC allows connected devices to communicate with and control the TV, and vice versa. It really comes in handy when you have multiple devices connected to TV's HDMI ports and you want to control all those devices (plus the TV) with a single remote.
Unfortunately, some laptops don't want to play nice with CEC. But that being said, there's still a very good chance that you can get your TV working with the Dell laptop by doing one of the following:
1 – First, try plugging the laptop into a different HDMI port on TV. This is the simplest possible solution by far, and it seems to work more often than not.
2 – If the HDMI port swapping attempt fails to work, you can try disabling the TV's CEC feature altogether by following the instructions in the TV's user manual. If you don't have the manual on hand you'll find a PDF version on the Sceptre website.
I have a hunch that one of the potential solutions mentioned above will work for you, Ari. Good luck!
Update from Ari:  It's working now Rick. I plugged the laptop into the second HDMI port (this TV has three of them) and the laptop booted up just fine. And the picture I'm getting on the TV is amazing! Thanks so much for your help!
Note: The links in this post are affiliate links.
---
Do you have a tech question of your own for Rick? Click here and send it in!