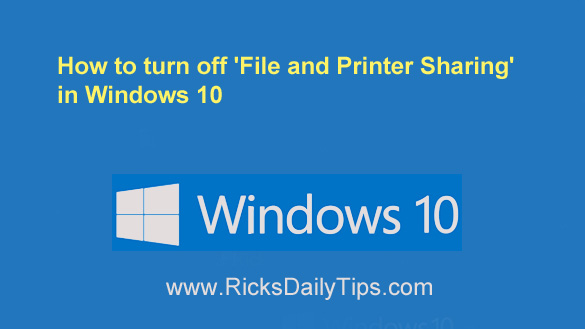 Microsoft Windows makes it very easy to share files and printers with other users on your local network.
However, these days the widespread use of network hard drives and wireless printers have reduced the need to share resources in that way.
If you don't have a need to share files and printers over a LAN, it's best to turn that feature off because it can leave your files and personal information vulnerable to hackers over the Internet.
I have already provided instructions for disabling "File and Printer Sharing" in Windows 7 and Windows 8/8.1 in this post.
Follow these steps to disable "File and Printer Sharing" in Windows 10:
1 – Press the Windows+S key combination to open a Search box.
2 – Type the word control into the search box, then select Control Panel from the list of search results.
3 – Find the "Network and Internet" section and click View network status and tasks.
4 – Click the Change advanced sharing settings over in the left-hand column.
5 – Select Turn off file and printer sharing.
6 – Click the Save changes button.
That's all there is to it. Now you won't have to worry about hackers accessing the files on your computer's hard drive via the "File and Printer Sharing" feature.
By the way, this is a great time to make sure all of your web browsers are up-to-date since security flaws in outdated browsers put your system at risk of downloading viruses and other malware.
I recommend that you check out an awesome free tool called WhatIsMyBrowser that will instantly let you know if the browser you're using is up-to-date.
Bonus tip: If you're looking for a great book that's filled with tons of Windows 10 tips and tutorials, I strongly recommend Windows 10 for Dummies. It's an excellent resource for learning the ins-and-outs of Windows 10.
---
Never miss a tip!  Click here to sign up for my free Daily Tech Tips Email Newsletter!