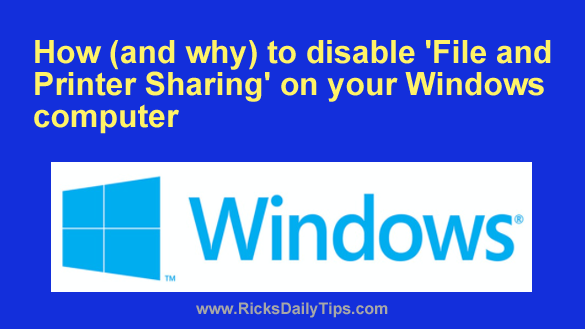 Microsoft Windows makes it very easy to share files and printers with other users on your local network and even over the Internet.
The thing is, today's widespread usage of network hard drives and wireless printers have reduced the need to share resources with other computers in that way.
If you don't have a need to share files and printers directly over a network, it's best to turn "File and printer sharing" off because it can leave your files and personal information vulnerable to hackers over the Internet. 
In fact, there are certain types of malware that specifically target computers that have "File and Printer Sharing" enabled while connected to the Internet.
Luckily, it's very easy to disable "File and Printer Sharing" on your Windows PC. This short video shows how to do it, step-by-step.
Note: You can watch this video at full screen by clicking the little "square" icon in the lower-right corner of the video after it begins playing.
If you prefer following written instructions, here you go:
1 – Click the Start button type the word control into the search box, then select Control Panel from the list of search results.
2 – Find the "Network and Internet" section and click View network status and tasks.
3 – Click the Change advanced sharing settings over in the left-hand column.
4 – If your PC is running Windows 10, select Turn off file and printer sharing and then click the Save changes button.
5 – If your PC is running Windows 11, simply toggle the "File and printer sharing" option to Off.
That's all there is to it. Now you won't have to worry about hackers accessing the files on your computer's hard drive via the "File and Printer Sharing" feature.
Bonus tip: This is a great time to make sure all of your web browsers are up-to-date since security flaws in outdated browsers put your system at risk of downloading viruses and other malware.
I recommend that you check out an awesome free tool called WhatIsMyBrowser that will instantly let you know if the browser you're using is up-to-date.
---