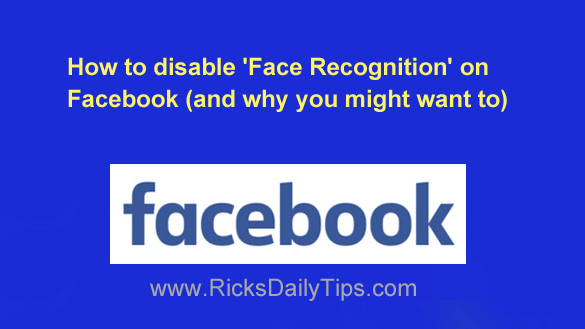 Facebook now has a feature called Face Recognition, and some folks aren't all that fond of it due to the privacy implications.
In a nutshell, Facebook's new Face Recognition feature works something like this:
When another user uploads a new photo or video to his/her account Facebook will compare it to YOUR profile picture and any photos you're tagged in to see if you're in that new photo.
If Facebook's scan determines that your face is indeed included in that photo or video you'll be sent a notification that someone has posted a picture/video that has you in it.
That notification by itself isn't really a concern to most people because they like the idea of being notified when someone posts a picture of them.
But what if Facebook decides to expand the use of Face Recognition for other purposes at some point in the future? (And trust me, they will.)
If you think about it there could be a million and one ways that Facebook could use Face Recognition to earn additional revenue. And admittedly, every one of those methods will likely be on the up-and-up.
But here's the thing that has me most concerned…
Scammers could potentially use malicious third-party apps that leverage the Face Recognition feature to scam you, your friends or your family members out of your hard-earned money. They could potentially even use it to damage your reputation or steal your identity.
This is why I and many other users have made the decision to disable Face Recognition on our Facebook accounts.
Again, I'm not suggesting that Facebook is planning to use Face Recognition in devious ways. I'm simply saying they might well decide to use it in ways that you won't like. And it's a sure bet that scammers are using it via malicious third-party apps right now.
Basically, it's up to you decide whether to leave Face Recognition enabled on your own account (it's enabled by default).
If you ultimately decide that you want to prevent Facebook from recognizing you in newly uploaded photos, you can easily turn off the Face Recognition feature. Just follow the steps below for your particular device…
If you're using Facebook on a laptop or Desktop computer:
1 – Log in to your Facebook account.
2 – Click the down arrow at the far right side of the blue bar at the top of the Facebook window.
3 – Click Settings & Privacy.
4 – Click Settings.
5 – Click the Face Recognition link over in the left-hand column.
6 – Click the Edit link over on the right.
7 – Click on the word Yes and toggle that setting to No.
If you're using the Facebook app on a mobile device:
1 – Launch the Facebook app and log in to your account.
2 – Tap the Menu icon (it looks like three horizontal lines stacked atop one another).
3 – Scroll down and tap Settings & Privacy.
4 – Tap Settings.
5 – Scroll down to the "Permissions" section and tap Face Recognition.
6 – Tap Do you want Facebook to be able to recognize you in photos and videos?.
7 – Tap No.
That's all there is to it. Face Recognition is now disabled on your account.
Bottom line: Depending on the level of importance you place on your personal privacy, you might be perfectly fine with Facebook's "Face Recognition" feature.
But if you're like me and it makes you a little uneasy you can always disable it by following the instructions above.
Bonus tip: This post explains why there's really no such thing as true privacy on Facebook.
---