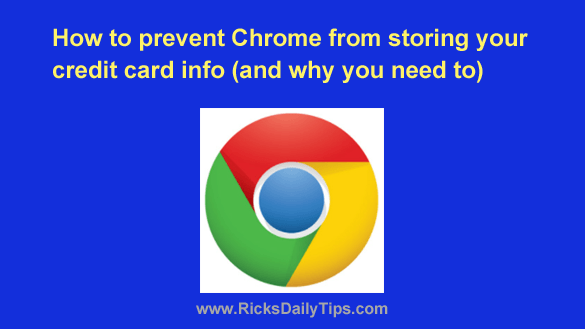 Do you use Google's popular Chrome web browser to shop online?
If so, Chrome's auto-fill feature has probably stored your credit card and/or debit card information in the browser.
Allowing Chrome to store your card info can be a real time saver if you do a lot of online shopping, but unfortunately it can also be a huge security risk.
If your card info is stored in the browser, anyone who happens to gain access to your computer or mobile device will be able to make online purchases using your credit or debit card.
And yes, that includes any hackers who can manage to remotely take over your machine!
This is why I don't allow Chrome to store my password info.
If you agree that it's a bad idea, you can easily turn off credit card auto-fill and remove any cards that are already stored there. Just follow the steps below.
First, turn off credit card auto-fill:
Note: The steps below work on all devices that use the Chrome browser. Simply click or tap as directed…
1 – Launch your Chrome browser.
2 – Click the Customize and Control icon located in the top-right corner of the window (it looks like three vertical dots).
3 – Click Settings.
4 – Click the Autofill link over in the left-hand column.
5 – Click Payment methods.
6 – Toggle the Save and fill payment methods setting to Off (the slider will turn from blue to gray).
7 – Toggle the Allow sites to check if you have payment methods saved setting to Off.
Next, remove any card info that's already stored in the browser:
8 – Click the three vertical dots located to the right of the first credit/debit card you see listed, then click Remove.
9 – Repeat step 8 for any remaining credit cards.
That's all there is to it. Any credit or debit cards that were previously stored in Chrome should now be gone, and the browser shouldn't be saving any more of them in the future (unless you turn the two settings you toggled off back on).
Bonus tip: This post gives 10 reasons why I recommend buying tech gear from Amazon.
---
Never miss a tip!  Click here to sign up for my free Daily Tech Tips Email Newsletter!