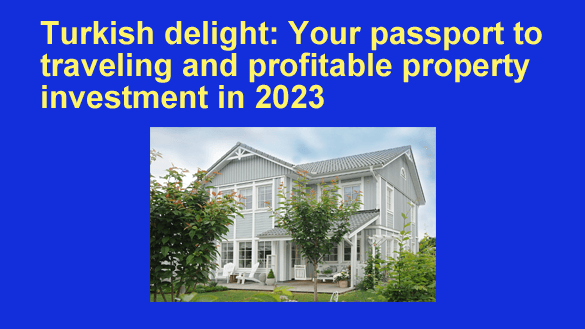 For people who love to travel and explore or anyone who enjoys tourism, Turkey is already fulfilling the dreams of many; the beautiful country with its beaches, mountains, museum, temples and mosques, fishing villages and so on is enough to trap anyone with a penchant for tourism.
However, many are unaware that Turkey has much more to offer than its beauty. The first step to discovering the hidden gem in the country is to buy real estate in Turkey in 2023 as an attractive investment opportunity due to the country's growing economy and favorable government policies.
If you want to see a little bit of the world, Turkey is the perfect place to start. The country lies between Asia and Europe serving as a border between the two continents. Owning a home in a country with access to two different continents is a delight, but when that country is paradise on Earth, it is truly surreal. 


6 Beautiful Cities in Turkey You Can Explore
The cities in Turkey are where most of the fun is. From new buildings to old architectural structures, business hubs and fun spots, there's no way you'd visit a city in Turkey without making at least one fond memory. Every city in this beautiful country has its perks depending on what appeals to you as an individual, but here are six cities in Turkey you have to visit while travelling.
1 – Istanbul – Formerly the capital of Turkey, the largest city in Turkey is a perfect mix of ancient elegance and modern city luxury. It is the heart of tourism in Turkey, and you can be sure you won't run out of activities in Istanbul. It is home to the Grand Bazaar, The Blue Mosque, Hagia Sophia and many other breathtaking structures.
2 – Ankara – This is the current capital of Turkey, and it's the second largest city, Turkey being the first. It is majorly known for being a center of industry but should not be dismissed as just that. In Ankara, you'll find the best museum in Turkey that has an exquisite collection. The Museum of Anatolian Civilization holds artefacts from archaeological sites all over Turkey. If you're interested in old civilizations and the history of Turkey, don't think twice before heading to this museum.
3 – Antalya – Think of sand, sea and sun; visiting one of Turkey's oldest towns with breathtaking sights, and you'll have Antalya. This city has everything any holiday seeker could want, be it enjoying the big city, a nice relaxing beach vacation or exploring an old town and its ancient history.
4 – Bursa – Bursa was the former capital of the Ottoman Empire. It still holds the heritage of the old empire in its impressive archaeological buildings. It is home to an extravagant 20-domed Grand Mosque, Muradiye Complex with beautifully decorated mausoleums, Koza Han with its countless silk shops, Kebapçi Iskender to dine on Iskender kebab in the place where it was first created. Bursa also has one of the longest cable cars in the world and a ski resort for those whose holiday falls during winter.
5 – Izmir – Once known as Smyrna from the Roman period, Izmir sits along the Aegean waterfront. The lively metropolis conceals the evidence of history within. Izmir is the place to go if you'd like to visit the ruins of Ephesus and Pergamum. It also has a large market for household goods and produce.
6 – Fethiye – If your idea of a vacation activity involves hiking and exploring ruins blanketed by lush forested hills and sailing, then the tiny city of Fethiye is for you. It is nearest to the famous beaches of Ölüdeniz, where you can enjoy activities like boat trips and paragliding. The city offers a three-night yacht cruise known as the Blue Cruise, which takes you on a tour of the coasts of Turkey.
Is Turkey for Tourism Only?
Although it may seem like tourism is Turkey's main feature, the country has a lot of booming industries and is as much a commercial hub as it is a perfect holiday destination.
Individuals wanting to work in another country as expats should consider Turkey as it has thriving industries like agriculture, textile, construction, food processing and many more, making it a fertile ground for those seeking greener pastures. You can either seek employment in Turkey or own a business; there are several cities in which businesses would thrive.
The Turkish government encourages foreign investors, and the people are welcoming to foreigners as they believe in a sense of community; making friends would be a piece of cake because you would be invited to gatherings and generally be accepted as a member of the community.


Accommodation for Tourists and Expats in Turkey
The issue of where to stay is often a big problem, especially for someone travelling to a new country for the first time. There may be fear of paying exorbitant amounts for a place to stay; however, the real estate market in Turkey is generally friendly.
Expats can get any house they desire within a reasonable budget in any part of Turkey they choose; read more on the official website, https://turk.estate/en/. Travelling to Turkey also allows you to invest in its real estate while enjoying the country's plethora of activities; this would make your dream of having a vacation home come true or serve as a source of passive income through rent.


Fulfil Your Dreams in Turkey
Have a fun and relaxing time, work in a friendly foreign country, find the home of your dreams or invest in a real estate market that grows every day. Turkey has the potential to fulfil most, if not all, of your desires. If you are brave enough to reach for it, this charming Mediterranean country might be your ticket to a life of ease and luxury.
---