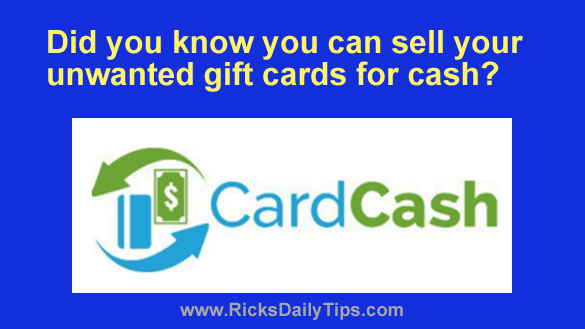 As I've mentioned before, gift cards make great gifts because they make it easy to ensure that your gift of "cash" will be spent on something the recipient really wants.
That being said, there are times when we receive gift cards for establishments that we never visit.
After all, some folks tend to give gift cards only for the places they like to shop at themselves. 
The next time you receive a gift card that you know you'll never use, instead of placing it in a drawer and leaving it there, you can easily sell it for cash!
CardCash will purchase your unwanted gift cards from hundreds of merchants, and they'll pay you with cash. You also have the option of receiving a gift card from a different retailer in lieu of cash.
All you have to do is visit the CardCash website and enter the details for your unwanted gift card(s), then either accept or reject the offer you receive.
One final note: There are plenty of sites on the Internet where you can sell your unwanted gift cards for real "cash", but you'll typically lose a huge chunk of the card's value in the transaction.
CardCash will give you up to 97% of the face value of your cards.
The percentage paid out varies from card to card, but most CardCash users tend to receive approximately 85% of the face value of their cards which is a lot more than most other sites usually pay.
---