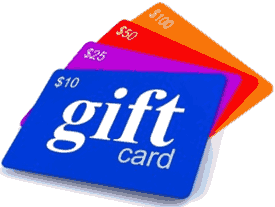 As you probably know, gift cards are extremely popular these days, and for good reason.
After all, they are easy to buy and they cost exactly the amount you want to spend!
In this post I'll explain all the reasons why I believe gift cards make such awesome gifts!
Instead of spending hours on end shuffling through dozens of crowded stores, give your friends and family members gift cards and let them buy their perfect gifts themselves!
I know you're probably thinking that gift cards aren't "personal" gifts and are less likely to be appreciated, but they've always gone ever quite well when I have given them.
There are several reasons why gift cards are quite possibly the best gifts you can give, both for the recipients and for you. Here are a few of them:
1 – Giving gift cards will virtually guarantee that the recipients will end up with gifts they truly love because they can use the cards to buy things they really want or need.
Think about it for a moment. Have you ever been handed a gift from someone who was grinning from ear to ear because they just knew you'd love it, only to be disappointed when you opened it? We all have, and it can create an awkward situation for both parties.
Finding the perfect gift for someone can be close to impossible, but giving them a gift card for their favorite store, restaurant or service makes it easy.
2 – If you have a friend or loved one that likes to shop online, a gift card will allow them to do so without having to use a credit card.
3 – Gift cards are easy to find. In fact, you can find them at most any local retailer or grocery store these days.
And if you really want to avoid the last minute shopping crowds, you can buy your gift cards at Amazon with just a few mouse clicks! What's more, Amazon will even "wrap" and deliver your gift cards on your behalf!
Bottom line: Gift cards really do make awesome gifts, both for you and your loved ones.
In short, they greatly reduce (or even eliminate) the frustration of dealing with crowded stores while virtually guaranteeing that the recipients will absolutely LOVE their gifts!
Bonus tip: Want to make sure you never miss one of my tips? It's easy! Just…
Click here to sign up for my free Rick's Daily Tips Email Newsletter!
---
Would you like to ask Rick a tech question? If so, click here and send it in!
If you found this post useful, would you mind helping me out by sharing it? Just click one of the handy social media sharing buttons below. Thanks a bunch!