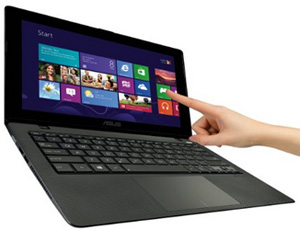 If you happen to think that having a touch screen on a laptop is just plain silly, you're apparently not alone. In fact, it appears that very few consumers prefer tapping the screen on a full-blown laptop over using a mouse or trackpad.
Sales of touch screen laptops have been so dismal that they appear to be on the verge of extinction. According to Digitimes, most major PC manufacturers have either stopped producing touch screen laptops already or they have plans to do so in the near future. 
It's easy to understand why the PC manufacturers are doing this. Adding a touch screen to a laptop makes it more expensive, which in turn forces the manufacturer to raise the price of the device to cover a feature that most users will never use. And how many consumers want to pay a premium for something that actually makes the computing experience less efficient? Answer: Not very many.
Bottom line: While tablet PCs (#ad) and those oh-so-cool convertible laptops (#ad) will still come with touch screens, if you're one of the relatively few folks on planet earth who is actually in the market for a touch screen laptop, it might be wise to act quickly.