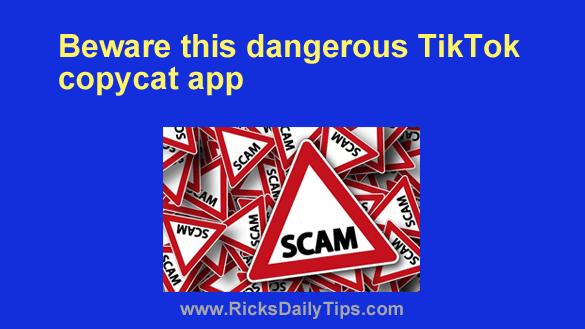 You're probably aware of the controversy surrounding the popular Chinese TikTok video sharing app.
It's still too early to know what TikTok's ultimate fate will be in the U.S. and other countries, but there's a fraudulent TikTok knockoff app that's being touted as a replacement app should TikTok eventually be banned where you reside.
The malicious app is called "TikTok Pro" and its download link is being spread via both WhatsApp messages and regular SMS text messages.
Although the malicious messages can vary, most recipients are seeing this version:
"Enjoy Tiktok videos and also make create videos again. Soon TikTok will only be available in (TikTok Pro) so download from below."
This malicious message (and the fraudulent app itself) first began making the rounds in India after that nation's government banned the real TikTok app, and now the scam is being spread worldwide.
If you were to receive this message and tap the link contained within it, the following two things would happen:
1 – You would be taken to a fraudulent web page containing a link for you to tap in order to download the malicious app.
2 – The malicious message you receive would immediately be forwarded to everyone on your Contacts List.
If you take the bait and install the app on your device you'll discover that it won't actually allow you to create or share any videos.
What WILL happen is the app will use your phone's microphone and camera to spy on your activities and send the audio and video back to the scammers.
Security researchers are investigating the app to try to determine what other malicious things it might be doing behind the scenes, but the spying is bad enough all by itself.
Bottom line: While the real TikTok app offers a "TikTok Pro" paid upgrade option, there is no legitimate app named TikTok Pro. That's why the download link in the malicious message takes victims to a third-party download page instead of the official Google Play Store or Apple App Store.
If you receive one of these messages via SMS or WhatsApp, simply delete it and move on.
If you happen to open the message by mistake you'll still be fine as long as you delete the message without tapping on the malicious download link.
If you have already received the fraudulent message and installed the malicious app, I strongly recommend that you remove the app from your phone immediately using the same procedure you use to remove any other app.
Just be aware that some victims have reported that they were unable to remove the malicious TikTok Pro app from their phones. If that happens to you your only recourse will be to reset your phone back to its factory default settings.
---