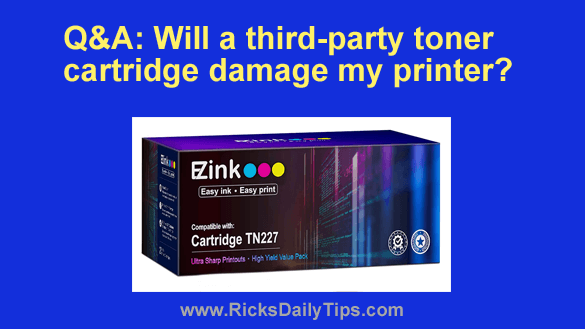 Question from Mark:  Based upon your recommendation I bought a Brother laser printer about a year or so ago.
The starter toner cartridge that came with the printer finally ran out so I ordered a third-party cartridge from Amazon.
I installed it per the instructions but the printer's LCD screen still says "Replace Toner".
I guess that message me has a little concerned. Should I be? 
The printer prints just fine with no problems whatsoever. I'm just a little worried that using a non-Brother cartridge might damage the printer.
In case you're wondering, the cartridge I bought has thousands of great reviews.
Rick's answer:  Mark, I believe you can safely use your third-party toner cartridge with no worries.
I've been using a variety of off-brand cartridges with my Brother MFCL2750DW laser printer for over four years with nary a problem.
And yes, my printer has been displaying "Replace Toner" all that time. I just ignore it.
This Brother Support page lists all the possible reasons why the "Replace Toner" message might be displayed, and here is one of the reasons they give:
iii.  Because a remanufactured, refilled or non-Brother toner is not manufactured by Brother, we cannot guarantee the performance of the toner or its ability to operate properly with our machine.
In a nutshell, if your printer detects a cartridge that matches the description above, you'll see that message even if your cartridge is perfectly fine (and I have a pretty strong hunch that yours is).
My recommendation: Keep using your third-party toner cartridge and ignore the "Replace Toner" message. I honestly believe it'll all work out just fine.
Update from Mark:  Thanks for that reassuring response. I've already printed over 400 pages with this cartridge and everything seems to be working just fine.
Thanks for putting my mind at ease. Keep up the great work!
---