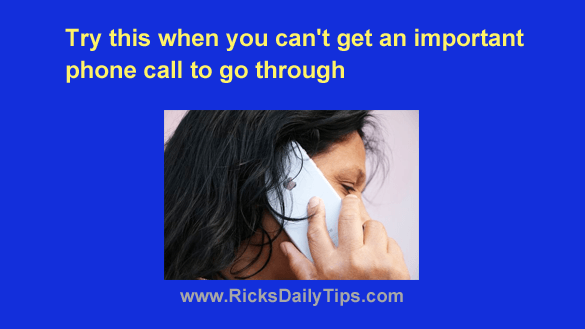 Have you ever tried to call someone with an important message only to discover that your cellular signal  was too weak for the call to go through?
Chances are you have, and you know how frustrating it can be when you can't place an important call.
The next time that happens, there's something else you can try that often works even when voice calls won't go through…
Try sending them a text message instead.
SMS text messages will almost always go through regardless of how poor the signal might be at your current location. As long as your phone isn't displaying the dreaded "No Signal" indicator your text will likely go through.
Of course if your phone can't detect any signal whatsoever, you're just out of luck. But if there's any available signal at all, the text will likely find its way to the recipient's phone even if you only have a single "shaky" bar.
Even if there's no signal showing at all you might be able to "find" a bar or two simply by moving to a different room or closer to an outside wall. And of course you can always try walking outside or a few feet up the nearest hill.
Bottom line: I realize there are occasions when you'd rather deliver an important message with an actual phone call, but there will likely be times when that simply isn't possible.
When that happens, sending a text might be your only option. It never hurts to give it a try.
And now for one last thought…
If you can't even get a text to go through maybe that's a sign that you need to put your phone away and enjoy the day in other ways. (This is more a reminder to myself than to you!)
I hope this post helps you. Good luck!
---