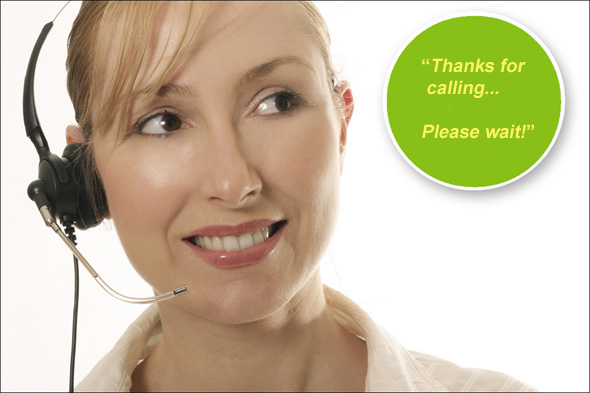 There are few things in life more frustrating than having to place a call to Tech Support. No matter what, it seems like it's always a hassle!
First, you have to spend a good chunk of your day on hold, then once your call is answered you have to endure a seemingly endless line of questions that have little to do with the problem at hand.
Being prepared can help take the sting out of the process. Here are a few tips for making your next Tech Support call as painless as possible: 
1 – Determine whether you really need to call at all. Most major companies now offer Tech Support via live chat. To find out if yours is one of them simply visit the Support section of their website and look for a "Live Chat" button.
Wait times for speaking to a chat representative are often shorter than hold times when calling, and you can be doing other stuff on your computer while waiting.
2 – Have as much information at hand as possible before you place the call. Here are the most important things to have written down:
– Brand, model number and serial number of the item. These are usually printed either on the back or bottom of the device, but some mobile devices have a label discreetly located in the battery compartment.
– If applicable, the version of the Operating System installed on the device. In the case of Microsoft Windows, be sure to include the Service Pack number if there is one. You can get this info by right-clicking the This PC or Computer icon and then clicking Properties.
– A detailed description of the problem(s) you're calling about. Be sure to include any specific error messages since these are excellent clues as to what is causing the problem. Be sure to include any cryptic numbers that are displayed as part of the error message.
3 – Be prepared for an extended wait on hold. You can place your phone in "speakerphone" mode and be doing other things while you wait (if using a mobile phone make sure the phone is plugged into a charger).
4 – Be patient. The rep will most likely follow a script with a series of questions that he/she must ask and things for you to try in the course of helping you fix your problem. Some of the questions and tasks asked of you will seem to be totally unrelated to the problem at hand, but objecting won't speed up the process a bit. It will actually slow it down.
5 – If you get a Tech Support rep who is difficult to understand, DO NOT HANG UP! Ask to speak to a supervisor or to have your case "escalated".
Supervisors are typically more knowledgeable and speak better English if the call center is located overseas. Hanging up will result in having to start the process all over again, maybe even with the same rep you were speaking with the first time.
6 – If possible, call in the middle of the day on a Tuesday, Wednesday or Thursday. Call at 9 am or 4pm on Monday or Friday and your hair will probably grow a full two inches before your call is answered. Weekends are hit and miss. Sometimes you'll get right through, but other times you'll be on hold until your youngest child graduates from college.
Bottom line: Calling Tech Support is one of the least enjoyable things that most of us will ever do. Hopefully these tips will help make your next support call a little less frustrating than it would be otherwise.
Bonus tip: Read this post to find out why phone-based Customer Support calls are horrible by design.
Image credit: John Fischer
---
If you think your friends would like this post, I'd love you to share it! Thanks a bunch!