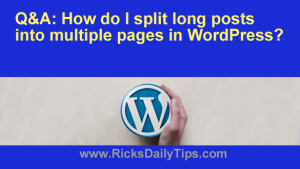 Question from Rita:  I have a question about WordPress is you don't mind.
My daughter helped me set up a blog and I'm just now beginning to get the hang of things. I have a question though.
I see on other blogs where they have long posts split up into multiples pages with a link at the bottom to click to go to the next page. I'd like to do that on some of my own posts because they tend to be pretty long.
How do I split my posts up like that?  [Read more…]