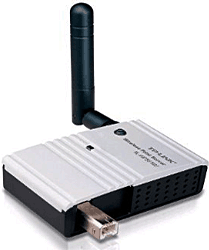 Like my tips?  Click here to sign up for my free Daily Tech Tips Newsletter and you'll never miss one!
---
Note: The links in this post are affiliate links.
One of the most useful features of many modern printers is their ability to connect to your network via Wi-Fi, eliminating the need to connect a cable between your computers and mobile devices and your printer.
But what if you have a printer that only connects via a USB cable and you really don't want to replace it just to get Wi-Fi connectivity?
The answer lies in a small box called a Wireless Print Server.
Simply place your printer in the place that's most convenient for everyone who'll be using it, then plug it into the wireless print server.  [Read more…]