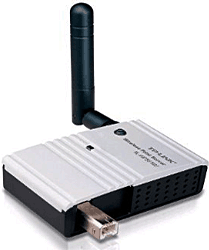 One of the most useful features of many modern printers is their ability to connect to your network via Wi-Fi, eliminating the need to connect a cable between your computers and mobile devices and your printer.
But what if you have a printer that only connects via a USB cable and you really don't want to replace it just to get Wi-Fi connectivity?
The answer lies in a small box called a Wireless Print Server. (#ad)
Simply place your printer in the place that's most convenient for everyone who'll be using it, then plug it into the wireless print server. 
Congrats, your trusty USB-only printer can now be accessed from anywhere in your home or office (as long as there is a usable Wi-Fi signal) without running a cable from the computer or mobile device to the printer!
If your printer is old as dirt and giving you problems, you'd probably be better off simply replacing it with a new model that has Wi-Fi connectivity built right in. But if you happen to really like your printer and it works great, why replace it?
Simply add a wireless print server to your network and print from your laptop, desktop and mobile devices without having to switch a cable from one device to another.
Amazon has an excellent selection of wireless print servers to choose from, at great prices – and free shipping to boot on many of them! Click here (#ad) to check them out.
Bonus tip: Want to make sure you never miss one of my tips? Click here to join my Rick's Tech Tips Facebook Group.
Not into Facebook? Then click here to join my LinkedIn Tech Tips Group instead!
---
Want to ask Rick a tech question? Click here and send it in!
If you found this post useful, would you mind helping me out by sharing it? Just click one of the handy social media sharing buttons below.