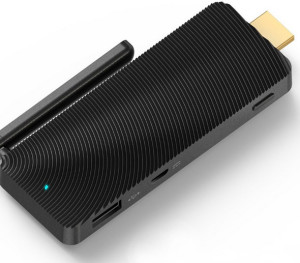 Mobile devices are becoming more powerful by the day, and I am continuously amazed at how much computing power and functionality they can pack into such small devices.
Well, now fully-functional desktop PCs have become truly portable as well. A perfect case in point is the awesome Quantum Access Windows 8.1 Mini PC Stick. (#ad)
In a nutshell, this is a fully functioning desktop PC contained within a tiny package that looks somewhat like an over-sized USB flash memory stick. But instead of a male USB connector, it features an HDMI connector that allows you to plug the computer directly into your monitor's HDMI port without having to use a cable.
Since the device plugs directly in to the monitor, all you have to do is plug in a USB keyboard and mouse and then get right to work!
Check out everything you get with this tiny machine:  [Read more…]