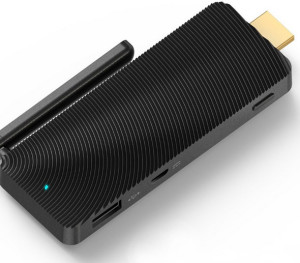 Mobile devices are becoming more powerful by the day, and I am continuously amazed at how much computing power and functionality they can pack into such small devices.
Well, now fully-functional desktop PCs have become truly portable as well. A perfect case in point is the awesome Quantum Access Windows 8.1 Mini PC Stick. (#ad)
In a nutshell, this is a fully functioning desktop PC contained within a tiny package that looks somewhat like an over-sized USB flash memory stick. But instead of a male USB connector, it features an HDMI connector that allows you to plug the computer directly into your monitor's HDMI port without having to use a cable.
Since the device plugs directly in to the monitor, all you have to do is plug in a USB keyboard and mouse and then get right to work!
Check out everything you get with this tiny machine: 
Intel Baytrail-T (Quad-core) Z3735F 1.33GHz CPU
2GB of DDR3L RAM
32GB of internal flash storage
HDMI video that supports streaming at a full 1080p
1 USB 2.0 port
1 micro-USB port
802.11bgn Wi-Fi
1 wired Ethernet port
1 small AC wall power adapter
Microsoft Windows 8.1
Here is a full-size photo: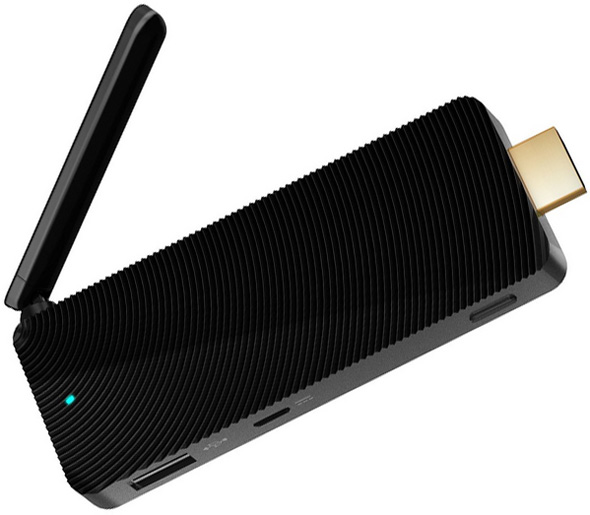 Keep in mind that the Mini PC Stick only weighs 4 ounces and is only about 4 inches long!
As you can see, while this device comes in a package that easily fits in your pocket, it is indeed a fully functioning Windows PC!
The first thing I noticed when I removed the Mini PC Stick from the box was just how little it is. In fact, even though I already knew the specs of the device, I really didn't expect much in the way of speed or functionality. But after plugging it in and completing the very brief setup process, I was quickly amazed at what this thing can do.
While it certainly doesn't zip along at the speed of a powerful mid-range or high-end desktop or laptop computer, it does an outstanding job while using the Internet and streaming video.
Thanks to the 32GB of built-in flash storage, Windows boots up quickly and runs plenty fast enough for casual use. And if you eventually find that you need more storage, you can easily add more by simply plugging in a tiny (and inexpensive) micro-SD memory card.
If there is one area where I find this ultra-portable desktop PC lacking, it's in the limited number of available USB ports. An extra full size USB 2.0 port (or even the addition of a speedy USB 3.0 port) would enhance the user experience in my opinion. But this lack of ports is easily mitigated with the use of a portable USB hub. (#ad)
Bottom line: Don't expect to run Adobe Photoshop or play any resource hogging games with it, but if you're looking for a truly portable desktop PC that you can easily carry between your home and office in a jacket pocket, this little gem just might be exactly what you're looking for.
Click here (#ad) to read more about the awesome Quantum Access Windows 8.1 Mini PC Stick on Amazon.