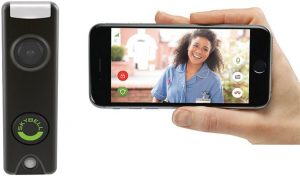 Don't you just hate it when you've settled in for the evening and your doorbell rings?
Or while you're away on vacation, do you worry about burglars ringing your doorbell to see whether you're home or not?
The ingenious SkyBell Video Wi-Fi Doorbell (#ad) lets you easily handle situations like these without even having to get out of your easy chair – or even while you're lounging on some faraway beach!
When someone pushes the button to ring your doorbell, you'll be instantly alerted via your Android phone or iPhone.
And thanks to a built-in camera, speaker and microphone, you'll be able to see the person standing at your door and carry on a conversation with him/her from anywhere in the world via your smartphone.  [Read more…]