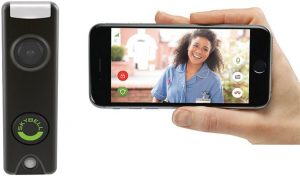 Don't you just hate it when you've settled in for the evening and your doorbell rings?
Or while you're away on vacation, do you worry about burglars ringing your doorbell to see whether you're home or not?
The ingenious SkyBell Video Wi-Fi Doorbell (#ad) lets you easily handle situations like these without even having to get out of your easy chair – or even while you're lounging on some faraway beach!
When someone pushes the button to ring your doorbell, you'll be instantly alerted via your Android phone or iPhone.
And thanks to a built-in camera, speaker and microphone, you'll be able to see the person standing at your door and carry on a conversation with him/her from anywhere in the world via your smartphone. 
If you're at home and the "visitor" is someone you wish to invite in, simply get up and open the door as usual.
If you're either not at home or simply don't want to allow the person into your home, either explain that now is not a good time or just tell them to go away.
This works especially well if the "visitor" is a potential burglar. You can tell him that you're busy and that you can't answer the door right now. He'll never know that you aren't even home!
The SkyBell's camera works under virtually all lighting conditions, even at night. What's more, the built-in motion sensor will alert you that someone is at the door even if they don't push the button to ring the bell.
What's more, if you feel uneasy about the person you can remotely snap a picture of him/her or even record a video stream that will be delivered right to your phone!
Bottom line: This awesome Wi-Fi video doorbell will provide peace of mind and security for years to come.
Click here (#ad) to check out the SkyBell Wi-Fi Video Doorbell at Amazon.
---
Like this post? If so, I invite you to share it with your friends. Just click one of the handy social media sharing buttons below.