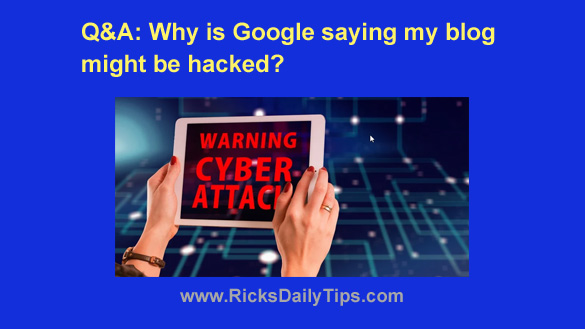 Question from Brianna L.:  I need your help, Rick. And I need it quick.
I woke up this morning to find several messages in my inbox telling me Google is reporting that my blog has been hacked.
I searched Google for my blog's name and sure enough they're showing this message with my site's URLs in the search results:
"This site may be hacked."
Then I checked my blog stats and found that the page views had dropped to almost nothing, literally overnight. They are usually in the thousands.
I carefully examined every page on my blog but I couldn't find anything that resembles a hacked page.
After that I did a Google search and saw where someone was recommending a check for strange plugins that could be causing the problem. He said to look for plugins that I didn't remember installing.
I checked the list of installed plugins but the only ones I found were the ones that I actually installed myself.
I have three questions for you: [Read more…]