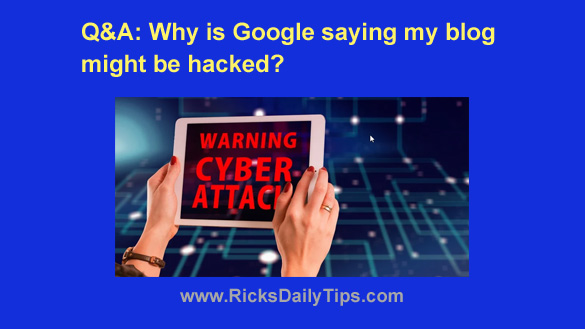 Question from Brianna L.:  I need your help, Rick. And I need it quick.
I woke up this morning to find several messages in my inbox telling me Google is reporting that my blog has been hacked.
I searched Google for my blog's name and sure enough they're showing this message with my site's URLs in the search results:
"This site may be hacked."
Then I checked my blog stats and found that the page views had dropped to almost nothing, literally overnight. They are usually in the thousands.
I carefully examined every page on my blog but I couldn't find anything that resembles a hacked page.
After that I did a Google search and saw where someone was recommending a check for strange plugins that could be causing the problem. He said to look for plugins that I didn't remember installing.
I checked the list of installed plugins but the only ones I found were the ones that I actually installed myself.
I have three questions for you:
1 – How can I find out if my blog has really been hacked?
2 – If it has been hacked, how do I fix it?
3 – How can I get Google to remove the warning message after I've confirmed that the site hasn't been (or is no longer) hacked?
I would really appreciate your help in getting my blog (and its search results) back to normal. I really need to get this taken care of as quickly as possible. I'll be happy to pay you whatever you charge for this type of thing.
Thanks in advance for your help!
Rick's answer:  I hate to be the bearer of bad news, Brianna. But in this case I'm afraid I have no choice.
The answer to your first question is yes, it's a virtual certainty that your blog has indeed been hacked because Google rarely makes a mistake and lists a "clean" site as having been hacked.
Unfortunately, the answer to your second question is almost as bad as the answer to the first one…
Since you checked every page of your blog plus your installed plugins and failed to find anything amiss, that likely means the malicious code must have somehow been injected into your blog's database.
The task of tracking that bad code down and removing it is something that requires the assistance of a website security pro, and I'm afraid I don't possess the skills necessary to do it.
There are several companies that specialize in the removal of website malware, but the one I recommend is Sucuri.
About a year after I began my blogging journey my primary blog got hacked and it started showing malicious ads at random times.
After trying unsuccessfully to find the source of the malicious ads I contacted Sucuri and asked them to remove the malware for me. The very next morning the malware had been removed and my blog was back to normal.
I have since learned that there are things we can do to prevent hackers from breaking into our blogs, but I receive requests for help from folks like you fairly often.
I always recommend that they contact Sucuri and their expert techs have always come through by providing fast and efficient service.
Now, to answer your third question I will simply refer you to this page on the Google website that explains what you need to do to get the "This site may be hacked" warning removed from your search results listings.
Bottom line: I'm very sorry this happened to you, Brianna. It seems that the hackers of the world never take a break from making things miserable for folks like you and me.
I really wish I could help you get your blog's malware issue resolved but I'm afraid that's simply outside the range of my skill set.
But that being said, I feel confident that the experts at Sucuri will be able to remove this malware for you in a very timely manner.
I wish you all the very best! Good luck!
---
Never miss a tip!  Click here to sign up for my free Daily Tech Tips Email Newsletter!