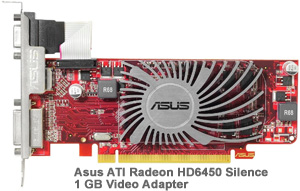 Question from Glen J.:  I have what is probably a very odd request. I need a low powered video card that doesn't use a fan.
The video card in my PC has always been very noisy, and now the fan has started making screeching noises and the blades are wobbly (bad bearings perhaps?).
My question is can I buy a simple low powered, fanless video card that will work in a PCIe slot? I don't need anything fancy, just something to drive my 21″ LCD monitor. I wouldn't even replace the bad card at all were it not for the fact that my motherboard doesn't have integrated video.
Any help you can provide will be very appreciated. [Read more…]