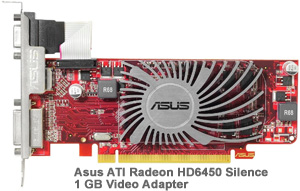 Question from Glen J.:  I have what is probably a very odd request. I need a low powered video card that doesn't use a fan.
The video card in my PC has always been very noisy, and now the fan has started making screeching noises and the blades are wobbly (bad bearings perhaps?).
My question is can I buy a simple low powered, fanless video card that will work in a PCIe slot? I don't need anything fancy, just something to drive my 21″ LCD monitor. I wouldn't even replace the bad card at all were it not for the fact that my motherboard doesn't have integrated video.
Any help you can provide will be very appreciated. The only video cards I can find anywhere have a fan, which I don't really want or need since my graphics requirements are very limited (email, web surfing and such – no games!).
Rick's answer: Believe it or not, there are still a few fanless video cards out there Glen.
Here's a link to one (#ad) on Amazon that I have used with great success in the past. It's an Asus ATI Radeon HD6450 which comes with 1GB of dedicated video memory and fits into a PCIe slot.
This is a good card that should serve you well as long as your PC's case has good airflow and you don't play graphics-intensive games.
I hope this helps, Glen. Good luck!
Bonus tip #1: This post explains how to keep your computer from over-heating by safely blowing the dust out of it.
Bonus tip #2: Want to make sure you never miss one of my tips? Click here to join my Rick's Tech Tips Facebook Group!
---
Want to ask Rick a tech question? Click here and send it in!
If you found this post useful, would you mind helping me out by sharing it? Just click one of the handy social media sharing buttons below.