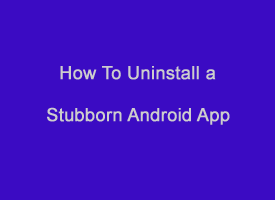 Question from Keith:  Hi Rick. I have a problem that's driving me nuts and I hope you can help me solve it.
I downloaded an app onto my Motorola XOOM but decided that I don't like it. When I try to uninstall it I get a message that says "Uninstall not Successful". No matter what I do I can't get Android to uninstall the app.
I stopped the service and even went into Google Play to try to remove it, but nothing works. What do I need to do to get rid of it?
Rick's answer:   [Read more…]