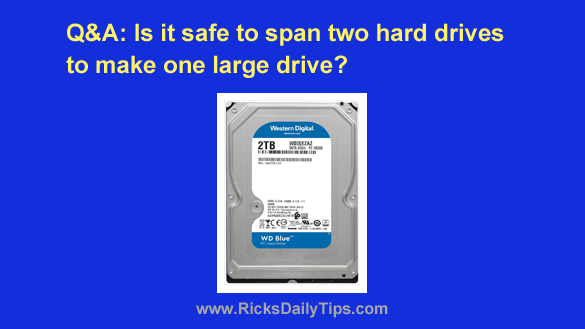 Question from Carl:  I read here that you can "span" (i.e. combine) multiple hard drives and use them as one large drive and access them all with a single drive letter.
I have a used, but working 500GB hard drive at home that I could install in my Windows 10 desktop computer to span with the 750GB drive that's already in it to effectively give me a 1.25TB drive.
I happened to be in Best Buy the other day and I asked one of the Geek Squad techs if they could span the two hard drives into one for me.
His answer was they could but they didn't recommend spanning drives because if one of the spanned drives failed you'd lose all the data stored on all the drives.
He said it's a lot safer to simply install a 2TB drive and be done with it. And of course he conveniently had one available to sell me.
Was he telling the truth or was he just trying to sell me a new hard drive?
Rick's answer:  [Read more…]