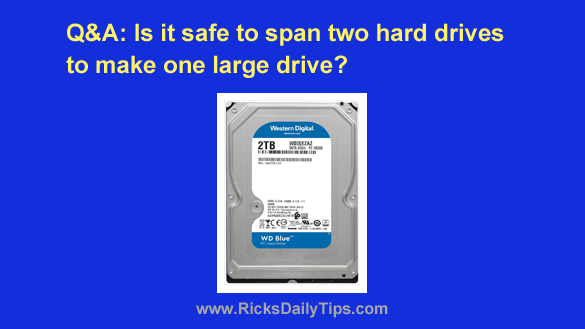 Question from Carl:  I read here that you can "span" (i.e. combine) multiple hard drives and use them as one large drive and access them all with a single drive letter.
I have a used, but working 500GB hard drive at home that I could install in my Windows 10 desktop computer to span with the 750GB drive that's already in it to effectively give me a 1.25TB drive.
Would you mind answering a question about drive spanning for me? 
I happened to be in Best Buy the other day and I asked one of the Geek Squad techs if they could span the two hard drives into one for me.
His answer was they could but they didn't recommend spanning drives because if one of the spanned drives failed you'd lose all the data stored on all the drives.
He said it's a lot safer to simply install a 2TB drive and be done with it. And of course he conveniently had one available to sell me.
Was he telling the truth or was he just trying to sell me a new hard drive?
Rick's answer: Carl, it's certainly true that you could install the 500GB drive in your desktop computer and span the two hard drives together to create one large logical drive that would effectively become one much larger C: drive.
Unfortunately, it's also true that if one of those two drives were to fail you'd lose (at least some of) the data that's stored on both drives.
In other words, what the Geek Squad tech told you is accurate.
That being said, you could mitigate much of the risk involved with spanning drives by simply making frequent backups of your data. After all, a drive failure can't destroy data that's backed up onto other media.
And now, that being said, here is my opinion about spanning (at least for you, in your situation) followed by a recommendation…
I believe the tech at Best Buy gave you good advice.
You could buy a brand new 2TB internal hard drive and install it yourself for less than you'd have to pay Best Buy just to span the drives for you, while avoiding the risks associated with drive spanning.
And that's exactly what I recommend that you do. Here's how:
1 – Purchase a new 2TB hard drive. (or even better, a 2TB SSD).
You can either pick one up a new drive locally or order one from Amazon (#ad).
2 – Install the new drive into an open drive bay inside your computer.
3 – Download Clonezilla and use it to clone the contents of the old hard drive onto the new one.
4 – After the cloning process is complete, shut down the computer and temporarily disconnect the cables from the old hard drive.
5 – Boot the computer into Windows and test everything thoroughly to make sure the new drive (and the system in general) is working the way it should be.
6 – Once you're satisfied that everything is working properly, create a System Image Backup of the contents of the new hard drive.
7 – Change the boot sequence in your PC's BIOS Settings to instruct the machine to boot from the new (2TB) drive.
Note: Your PC's user manual should have instructions for accessing the BIOS Setup screens. If you don't have the user manual you should be able to download a PDF copy from the "Support" section of the manufacturer's website.
8 – Turn the computer Off and reconnect the cables to the old hard drive.
9 – Boot the computer back up into Windows and then format the old hard drive to free up its space to hold new data.
That's all there is to it. Your PC should now have a total of 2.5 TB of hard drive storage, 2TB of which is on one large hard drive.
I hope this helps, Carl. Good luck!
---