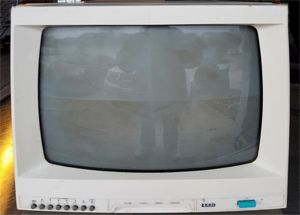 Question from Carolyn L:  A convenience store not far from where we live recently closed and the owners sold all the equipment at auction.
My daughter and I bought their very old, but working security system to monitor certain areas of our little craft store.
It came with two security cameras, two monitors and the cables to connect them to two VCRs for recording the video from the cameras.
A friend of mine hooked everything up for us and it all seems to work ok except for one problem. Both monitors have a ghost image that appears to show the convenience store's parking lot from two different angles.
The images from inside our store are displayed on the monitors but the ghost images are displayed on top of them, making it hard to follow what's going on inside the store.
Why are those ghost images on there and how can we get rid of them?
Rick's answer:  [Read more…]