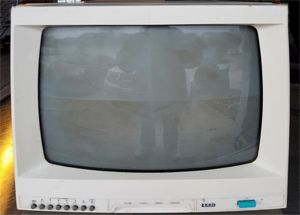 Question from Carolyn L:  A convenience store not far from where we live recently closed and the owners sold all the equipment at auction.
My daughter and I bought their very old, but working security system to monitor certain areas of our little craft store.
It came with two security cameras, two monitors and the cables to connect them to two VCRs for recording the video from the cameras.
A friend of mine hooked everything up for us and it all seems to work ok except for one problem. Both monitors have a ghost image that appears to show the convenience store's parking lot from two different angles.
The images from inside our store are displayed on the monitors but the ghost images are displayed on top of them, making it hard to follow what's going on inside the store.
Why are those ghost images on there and how can we get rid of them?
Rick's answer:  Carolyn, the ghost images you're seeing on your security monitors is caused by something called screen burn-in.
Screen burn-in occurs when a video screen displays the same static image for long periods of time.
Burn-in isn't really a problem for newer display screens, but it was quite common with older monitors that used CRT's for displaying their images.
This was such a huge problem for the now-obsolete CRT computer monitors of times past that screensavers were developed to prevent the same image from being displayed for long periods when the computer wasn't in use.
CRT-based security monitors such as the ones you purchased at the auction were especially susceptible to screen burn-in because they typically display the same static scene for really long periods of time (we're talking years in many cases).
Truth be told, it's actually pretty rare to see a used CRT security monitor that doesn't have a significant amount of screen burn-in.
Unfortunately, there's nothing you can do to "fix" the ghost images on your monitors. If the ghosting is too much of a distraction for you I'm afraid your only recourse will be to replace the monitors with new ones.
That being said, if you primarily just need to record the goings-on inside your store to serve as video proof for shoplifting cases you might be able to get by just fine with the monitors you have.
Bonus tip #1: This post offers several tips for fooling burglars into thinking you're always at home.
Bonus tip #2: Want to make sure you never miss one of my tips? Click here to join my Rick's Tech Tips Facebook Group.
Not into Facebook? Then click here to join my LinkedIn Tech Tips Group instead!
---
Want to ask Rick a tech question? Click here and send it in!
If you found this post useful, would you mind helping me out by sharing it? Just click one of the handy social media sharing buttons below.