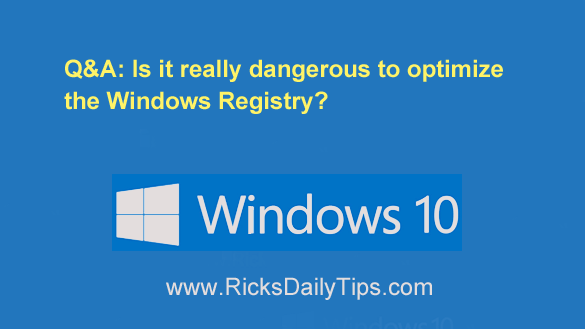 Like my tips?  Click here to sign up for my free Daily Tech Tips Newsletter and you'll never miss one!
---
Question from Ellen:  A couple of years ago I started using a Windows PC for the first time because my iMac died and I couldn't afford a new one.
When I bought my new laptop the salesman told me that Windows 10 does a horrible job at keeping the system optimized and running smoothly.
He said I needed to buy a program called System Mechanic and use it to clean Windows up every few months.
He told me the most important feature of System Mechanic is how it optimizes the Registry to make sure it runs right without causing any problems.
Long story short, I've been using System Mechanic for a long time and I haven't noticed any problems with it.
But someone told me the other day that it's dangerous to optimize the Windows Registry. Is that really true?
Rick's answer:  [Read more…]