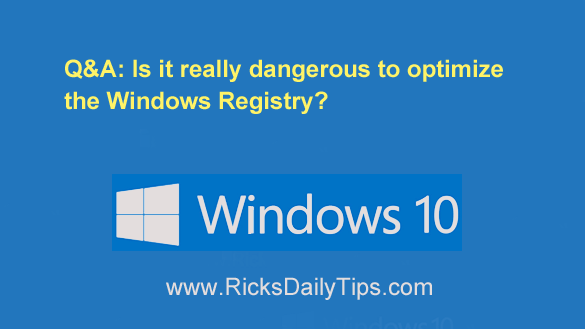 Like my tips?  Click here to sign up for my free Daily Tech Tips Newsletter and you'll never miss one!
---
Question from Ellen:  A couple of years ago I started using a Windows PC for the first time because my iMac died and I couldn't afford a new one.
When I bought my new laptop the salesman told me that Windows 10 does a horrible job at keeping the system optimized and running smoothly.
He said I needed to buy a program called System Mechanic and use it to clean Windows up every few months.
He told me the most important feature of System Mechanic is how it optimizes the Registry to make sure it runs right without causing any problems.
Long story short, I've been using System Mechanic for a long time and I haven't noticed any problems with it.
But someone told me the other day that it's dangerous to optimize the Windows Registry. Is that really true?
Rick's answer:  That's a great question, Ellen. And unfortunately, the answer is yes.
While it's true that the Registry database in Windows does get cluttered up with digital junk over time, I've seen very little evidence that it places a noticeable performance hit on a machine.
However, I've seen tons of evidence over the years suggesting that using a Registry optimizer tool to "clean" and organize the Windows Registry can cause issues ranging from minor intermittent system errors to total system freeze-ups.
What's more, in the worst cases the machines wouldn't even boot up into Windows.
In general I don't recommend using any type of one-click Windows optimization tools at all.
Personally, I use CCleaner and perform each included task manually, making sure to skip the Registry Optimization tool altogether.
I also recommend running Windows' own native Disk Cleanup utility on occasion to keep the hard drive/SSD free of clutter.
And finally, I use the awesome Geek Uninstaller utility to uninstall programs from my PCs because it prevents the accumulation of leftover fragments of deleted programs by removing every last trace of the deleted program.
Bottom line: A little periodic routine maintenance can indeed keep your Windows PC running smoothly and hiccup-free, but I recommend that you leave the Registry optimizer tools alone.
And yes, that includes the one in System Mechanic.
---
If you found this post useful, would you mind helping me out by sharing it?
Just click one of the handy social media sharing buttons below. Thanks a bunch!